Put simply, you can use Freja eID to access online services, make electronic signatures, identify yourself and others, prove your age, control who gets your personal data, all of which is wrapped in a package that is safe and easy to use.
Freja eID is based on advanced and proven security technology used by banks and authorities worldwide to handle electronic identities, protect sensitive data and meet regulatory requirements.
WHAT TO EXPECT
FROM MY PAGES
See your Action History and keep track of all actions performed in Freja eID.
Under User Details you can see the data you have registered in Freja eID.
Enable/disable Services. You are in control of which services you can access.
Log In to My Pages
P2P IDENTIFICATION
Freja eID's P2P identification feature becomes available when you add an ID document to Freja eID. This generates a secure ID card that contains some of your data – your name, age and photo – in the app. You can use this data in a multitude of ways to identify yourself and others.
SMOOTH AND SAFE IDENTIFICATION
Identify yourself to services smoothly and securely via your PIN or biometrics. Essentially, this constitutes 2FA (two-factor authentication) that is much safer and easier than using a password.
QR CODE IDENTIFICATION
You may also use Freja eID for services by just scanning a QR code. This is the fastest and safest method of identification because you don't need to type anything. Just scan, approve and you're in!
ELECTRONIC SIGNATURES
Legally binding electronic signatures are approved with your PIN or biometrics in the Freja eID app thus replacing paper-based processes. These signatures may also last up to 30 days, allowing great flexibility for important decisions, or when multiple people need to sign off on things.
ONE IDENTITY – MULTIPLE DEVICES
When you get a new phone, you can easily add Freja eID onto it with your old one. No need to wait, go to the bank or inconvenience yourself. This can be a mix of Android and iOS devices, phones or tablets, there are no limitations.
FLEXIBLE USERNAMES
You can link up to three email addresses and/or mobile phone numbers to your Freja eID. All of these can be used as your usernames and deleted/replaced as needed.The idea is to grant you flexibility for using digital services without using sensitive information such as your personnummer.
ID PROTECTION PREVENTS ID HIJACKING

Every year 200,000 Swedes suffer from ID hijacking or ID theft, and Freja eID Plus helps you prevent becoming one of them with its ID Protection feature. What it does is notify you if your registered address or special postal address has been changed. Or if someone adds an additional address.
The ID Protection service will send an alert to you when this change happens so that you can take appropriate action immediately. While ID Protection cannot replace any losses or compensate for an ID theft, it allows you to react as quickly as possible to notify the police, block your personnummer and/or credit card, prevent the fraudster from taking loans in your name.
See here to learn about the measures you can take to prevent as much economic damage from ID hijacking as possible.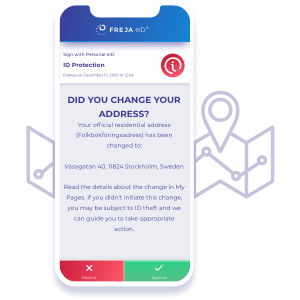 ID Protection with Freja eID Plus
Follow the instructions in the app to upgrade to Freja eID Plus to get the ID protection feature. Learn more about how to proceed: Get Freja eID Plus.
NOTE! Freja eID+ does not inform about change of address or forwarding of mail made via Svensk Adressändring. It is a private service from Postnord and Citymail. We recommend that you enable the "addreslåset" at the Svensk Adressändring. However, this does not lock your registered address at Skatteverket.
How ID Protection works in Freja eID
The SPAR database is updated the night after each day with data from the Swedish Population Register.
Your data is being checked against the SPAR database after each update they register.
If something changes, you will receive a message about this in the app and via the e-mail addresses linked to your Freja eID.