On the morning of December 5, the Minister of Civil Affairs Mr. Erik Slottner received the petition and collected signatures for the 'Alla ska med' campaign.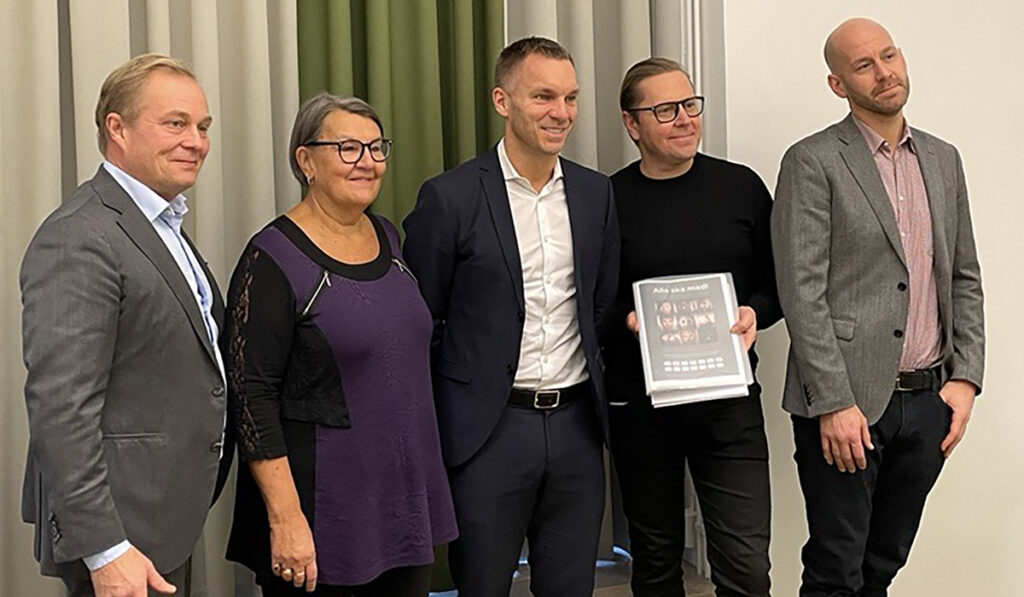 Background
One in ten Swedes lives in digital exclusion. For one reason or another, they do not have the e-identification required to access thousands of e-services that most people take for granted. There are three state-approved e-IDs that would ensure that everyone was included. For this to happen, however, all e-services must offer these options.
The Petition – 'Alla ska med'
At the beginning of November, the question was asked on Freja's website: "Should services that require an e-ID offer all state-approved alternatives so that those who lack a certain e-ID can still participate in society?" Over 1000 people answered and of these 98% voted YES to the question.
On the website www.allaskamed.nu there was then the possibility to sign the petition digitally. This was possible to do in several ways – either one of the largest e-IDs or with a so-called screen signature.
On December 3, the International Day of Persons with Disabilities, a demonstration was held at Stockholm's Stureplan, where people could show their support for this cause and sign the petition.
On December 5, Freja's CEO Johan Henrikson and product manager Kristofer von Beetzen, together with the Aphasia Association's chairman Berit Robrandt Ahlberg and Nicklas Mårtensson, secretary general of Funktionsrätt Sweden, jointly met the Minister of Civil Affairs to submit the list of approximately 2,200 signatures.
Several weeks of intensive campaigning together with several organisations for people with disabilities led to the meeting with the civil minister. Now is the time to simultaneously reduce digital exclusion and build a more robust civil society.
Supporting organizations: