ID HIJACKING
IS A REAL THREAT
Suddenly you get a recovery order of 600,000 SEK from a bank you are not a customer at. A company, that offers fast loans, that you have never heard of requires that another half a million Swedish crowns be refunded. At the same time, your mailbox is filled with payment reminders for items you have not purchased. You have become ID hijacked.
FREE ID PROTECTION
PREVENTS ID HIJACKING
Every year, 200,000 Swedes suffer from ID hijacking or ID theft, Freja eID Plus helps you prevent becoming one of them. Freja eID Plus not only allows you to log in securely to connected websites. This level also includes a free ID protection. It will notify you if your registered address or special postal address has been changed. Or if someone adds an additional address.
The ID Protection service will announce when your address changes, it is up to you to take appropriate action. It does not replace any losses or compensate for an ID theft. But it gives you the opportunity to act as quickly as possible, thus eliminating a personal economic disaster.
Learn more about how to act when you suspect you've been ID-hijacked: Help I've been ID hijacked!
PREVENTIVE PROTECTION
AGAINST ID HIJACKING
An ID hijacking often begins with the fraudster changing your address, which is unfortunately quite simple. All your mail is then delivered to the fraudster. The fraudster can take loans in your name, pick out bank cards linked to your accounts and shop for your money. The letter stating that your address has changed, the fraudster also makes sure you never get.
There is no comprehensive protection against ID hijacking. Freja eID Plus gives you the ability to act quickly and eliminate fraud. In combination with the security measures in the section How to protect yourself, you reduce the risk of being affected significantly.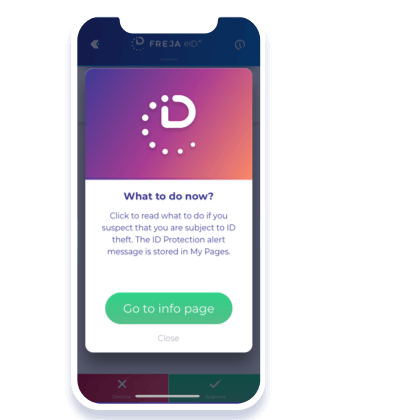 FREE ID PROTECTION
WITH FREJA eID PLUS
Follow the instructions in the app to upgrade to Freja eID Plus and get a free ID protection.
Learn more about how to proceed: Get Freja eID Plus.
NOTE! Freja eID+ does not inform about change of address or forwarding of mail made via Svensk Adressändring. It is a private service from Postnord and Citymail. We recommend that you enable the "addreslåset" at the Svensk Adressändring. However, this does not lock your registered address at Skatteverket.
HOW ID PROTECTION
WORKS IN THE
FREJA eID APP
The SPAR database is updated the night after each day with data from the Swedish Population Register.
Your data is being checked against the SPAR database after each update they register.
If something has changed, you will receive a message about this in the app and via the e-mail addresses linked to your Freja eID.